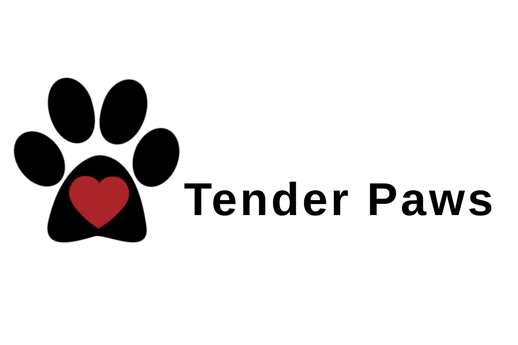 About Tender Paws of Clarksville, TN
Tender Paws is a non-profit volunteer organization of Therapy Animal Teams. We are committed to enhancing the well-being of individuals through animal-assisted therapy. Our teams bring comfort, companionship, and joy to those in hospitals, nursing homes, schools, and libraries. We also educate the public about the benefits of therapy animals and mentor new teams to become registered under Pet Partners.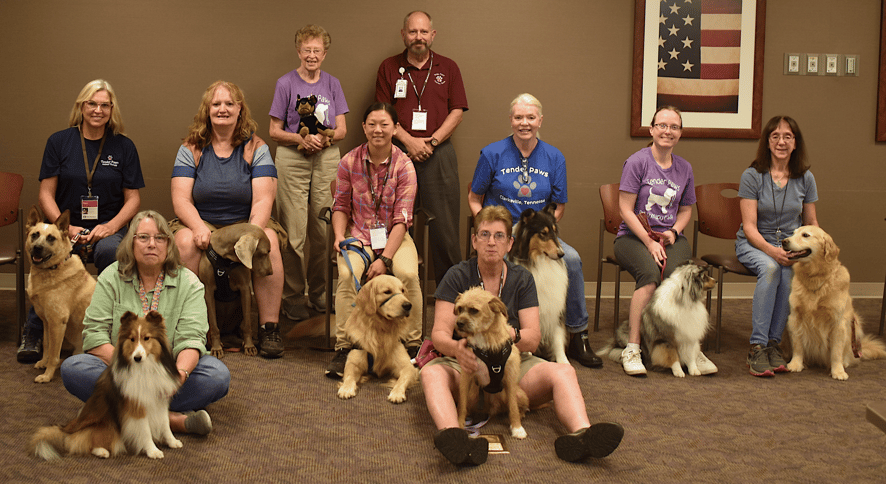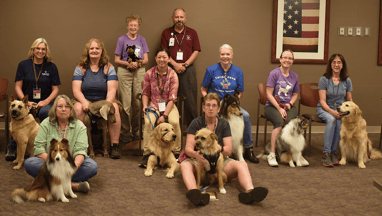 "In an age of research when it is tempting to reduce emotions to biochemical reactions and to rely heavily on the technology of medicine, it is refreshing to find that a person's health and well-being may be improved by prescribing contact with other living things."
— Michael J. McCulloch, MD, co-founder Pet Partners
While "Tender Paws" is our local Therapy Animal Group here in Clarksville, Tennessee, our Teams follow the policies and procedures set forth by Pet Partners.
Training, evaluation, and registration also follow Pet Partners' standards. Team registration with Pet Partners also provides Therapy Animal Teams with liability insurance.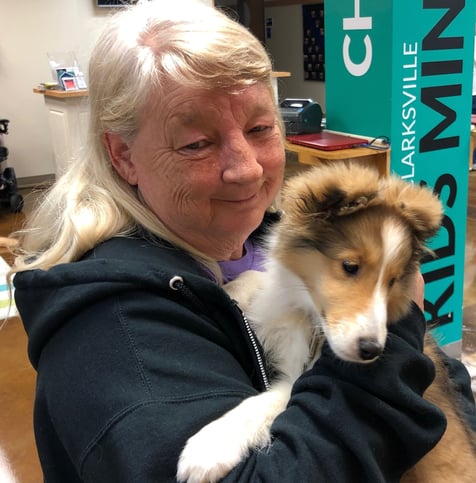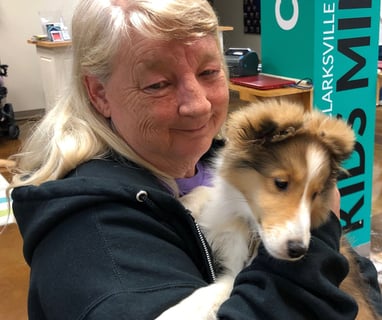 Interactions with many species of animals can be therapeutic.
Pet Partners and Tender Paws proudly registers nine different species of animals for therapy visits.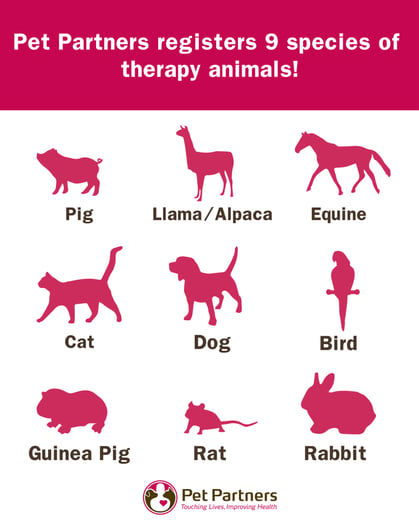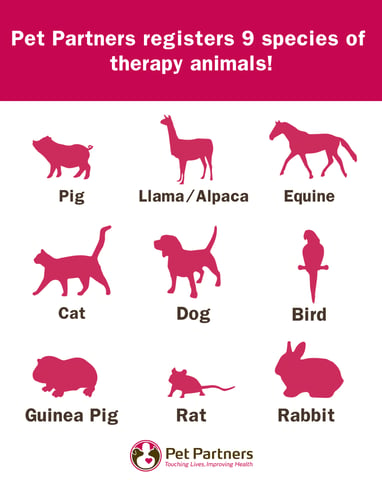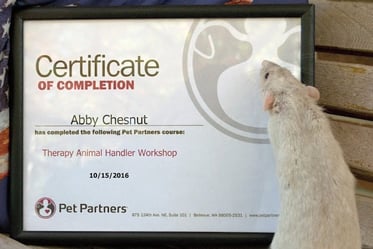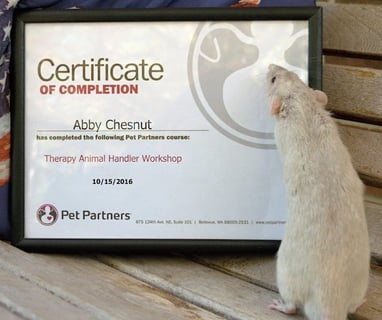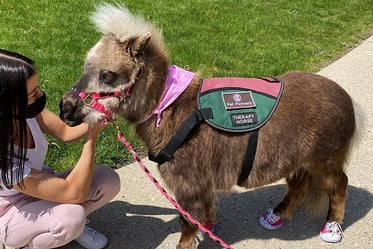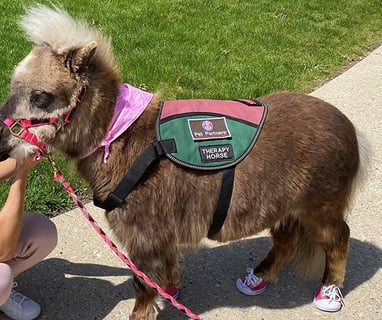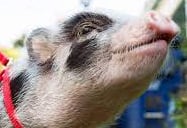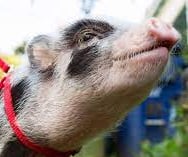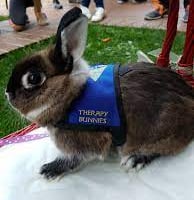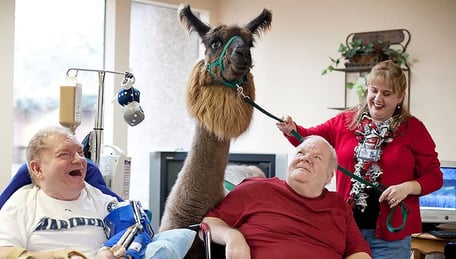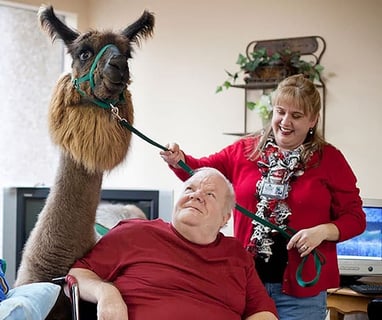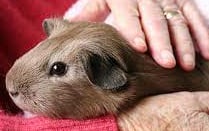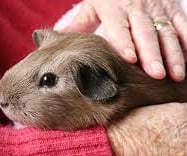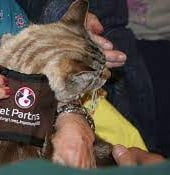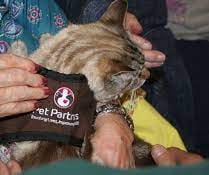 Our Registered
Therapy Animal Teams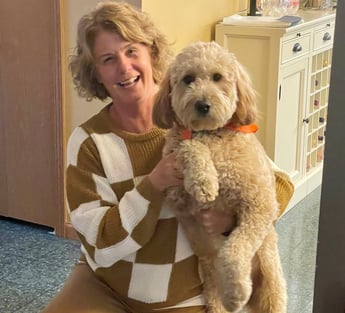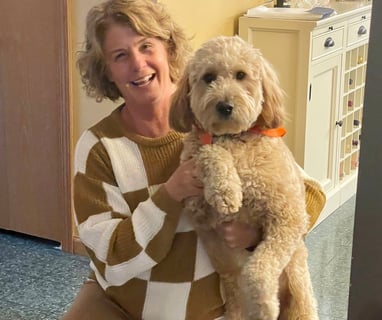 Michelle and Rucker joined Tender Paws in 2023. He is a Mini-Golden Doodle. They have been a registered Animal Therapy Team since 2023. They will visit local nursing homes, hospitals, local schools, and Austin Peay State University.
Poppy is my first therapy dog and we have both settled into a more relaxed lifestyle after my many years of involvement in the dog world. With over three decades of experience in AKC obedience and confirmation, as well as instructing, I am now enjoying the benefits of retired life. Poppy's gentle and friendly nature makes her the perfect companion for children of all ages, who love to spend time with her. She adores being petted and her long, velvety fur is a delight to stroke. When not busy brightening the lives of others, Poppy loves to play with her doggy pals and even gets along well with our family cats. We are thrilled at the prospect of many more years of joyful visits and creating happy memories together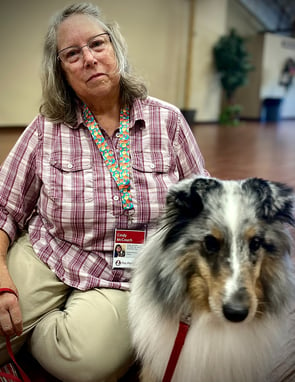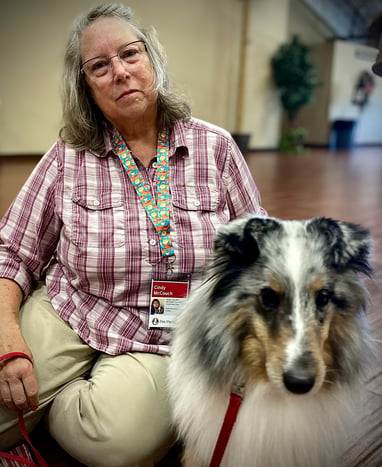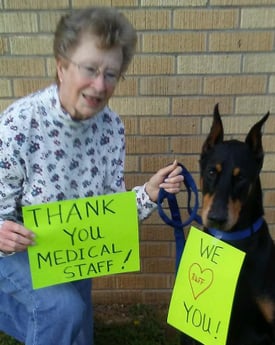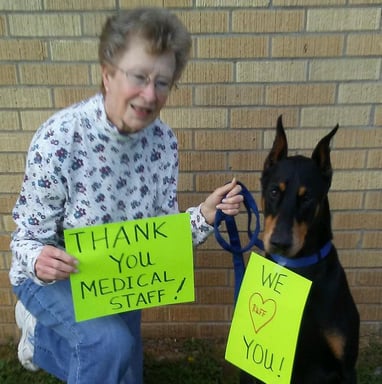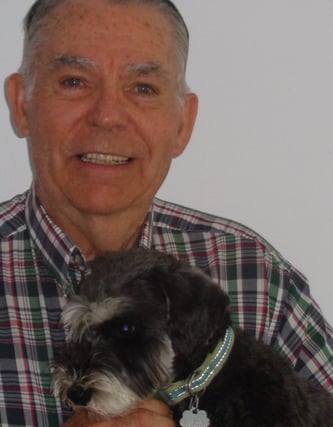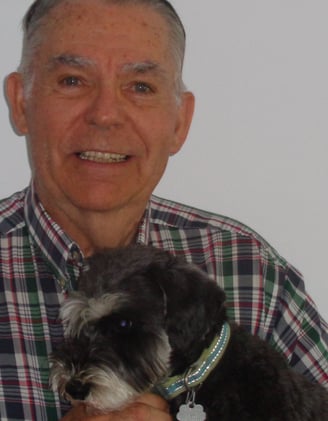 Mr. Jones, the breeder, handed me the Miniature Schnauzer puppy and instructed me to carry it around. I looked at the little dog and said, "Your name is Schatzi. You are going to be a working dog. I will give you food, shelter, love, and training. In return, you are going to be a therapy dog. You will comfort people and make them smile." Several months later Schatzi responded vigorously to an infant's voice and went into "sled dog mode" to get to her. The little girl, just three months older than Schatzi expressed no fear of my spirited puppy whom I had to restrain. I decided we would specialize our therapy work with kids. Schatzi is an AKC Canine Good Citizen. He is a couple of tricks away from becoming an AKC Advanced Trick Dog. The walking leg weave and handstand are his best tricks. He is a celebrity at Liberty Park Dog Park preferring to be with the big dogs.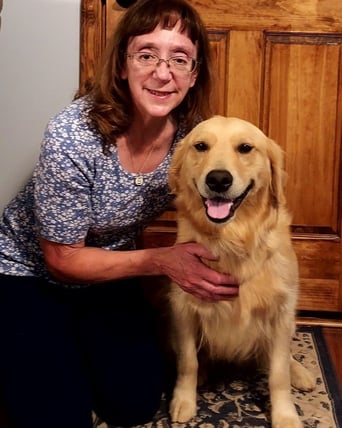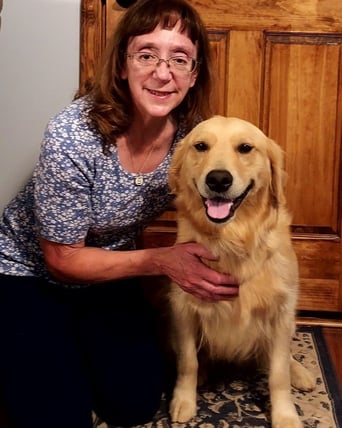 Falkinburg's Ocean of Gold, aka Anna Grace and her handler Lori has been a registered therapy team since 2022. People at Tennova Healthcare Clarksville and assisted living facilities love it when Anna Grace visits. Children at Vacation Bible Schools and children's camps enjoy visits with Anna Grace and Lori. Children read to Anna Grace at "Read with Me" at the Clarksville Montgomery County Public Library. If you've followed Tender Paws, you've seen Lori with 2 other Golden Retrievers. She's been the Handler for Genesis since 2015 and the late Gracie from 2011-2022. Anna Grace loves to bring happiness to all that she meets!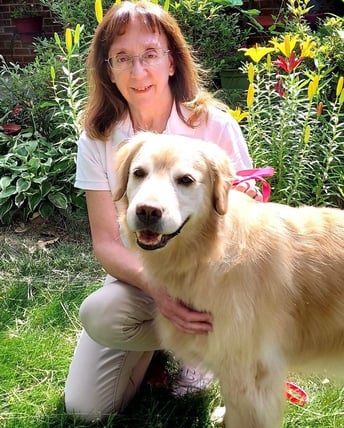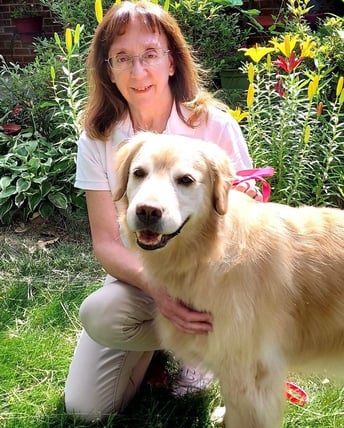 Falkinburg's Golden Genesis, or Genni, and Handler Lori have been a Therapy Team since 2015. They visit the local hospital, assisted living facilities, VBS, and various facilities in Clarksville. Genni enjoys going to Lori's school to visit the students, as well as participating in the "Read With Me" Program at the  Public Library. Genni loves meeting new people and putting a smile on their faces!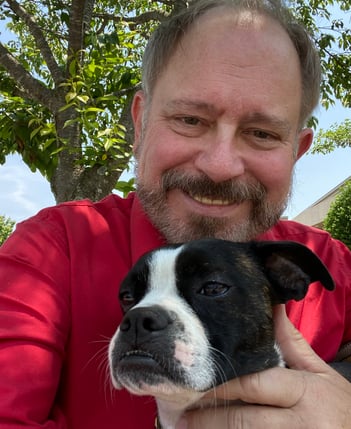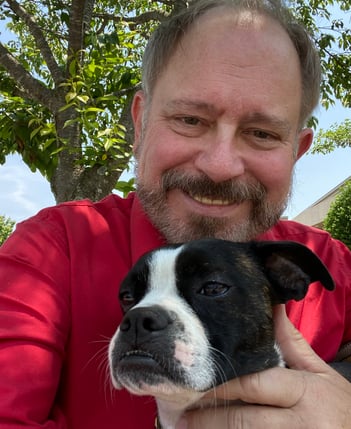 David has been a member of Tender Paws since 2013. Piper, a Boston Terrier, is his second therapy dog. David was a registered Therapy Animal Team with the late great Buddy for seven years. David and Piper are excited to be able to visit nursing homes and schools. Piper is a PhD (Pretty happy Dog) and has just begun her career visiting at Tennova Healthcare and is taking part in the "Read with Me" program at the Clarksville Montgomery County Public Library.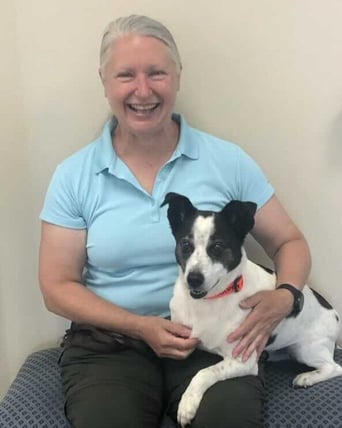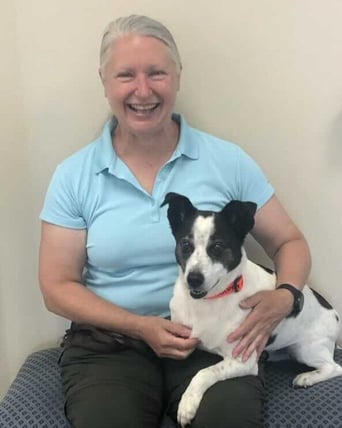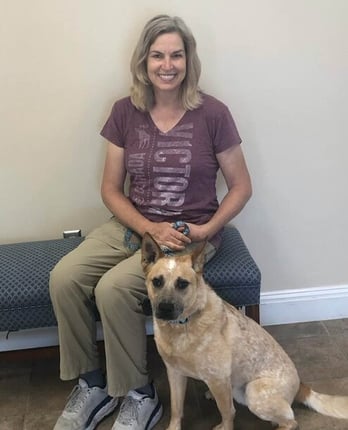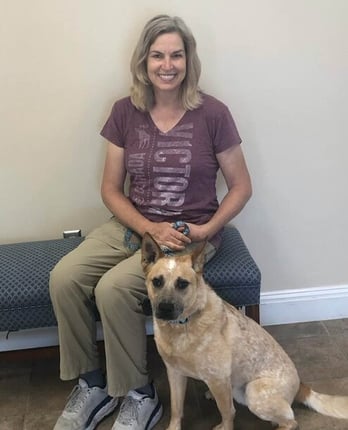 Bentley was born November 17, 2012 in Loganville GA and moved to Clarksville TN in January 2013. Bentley is a gentle Doberman who loves people and other dogs. Janet is a retired high school math teacher who now enjoys traveling, volunteering with various groups, working with Bentley, and loving her grandkids. Janet has had two previous Doberman therapy dogs who visited from 2002-2012. Janet and Bentley plan to visit at Tennova hospital, the new TN State Veterans home, perhaps other nursing homes, and as many Tender Paws activities as possible.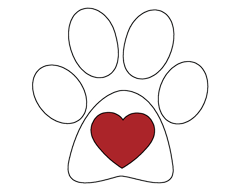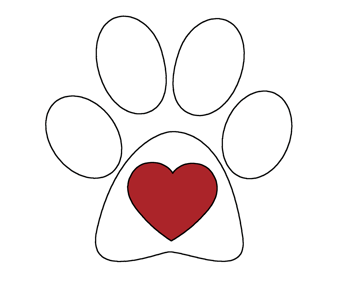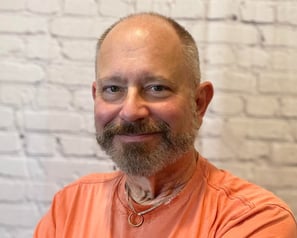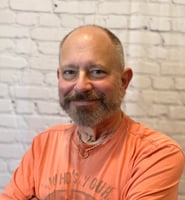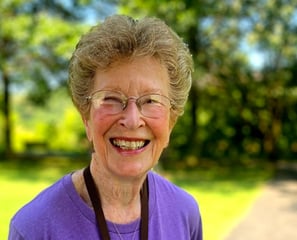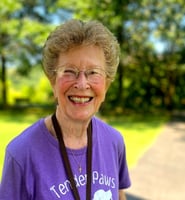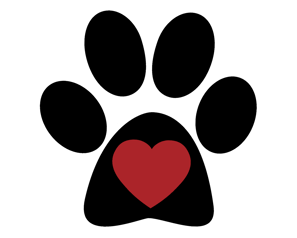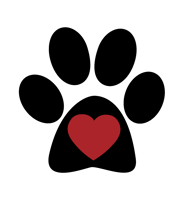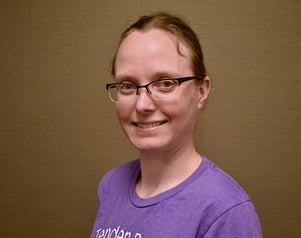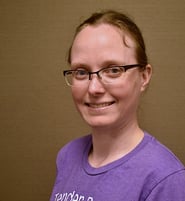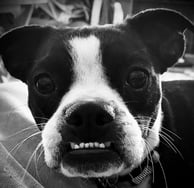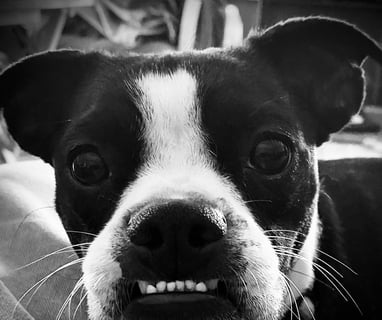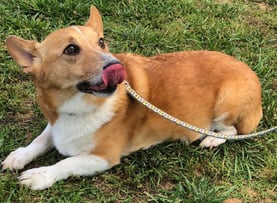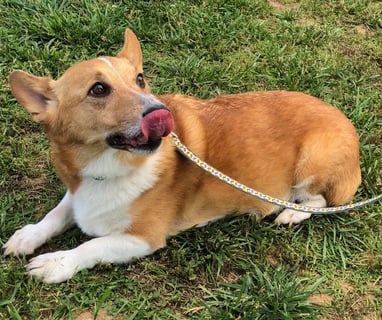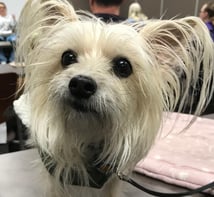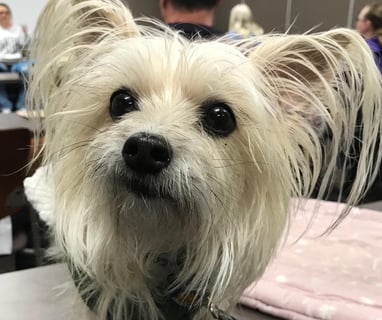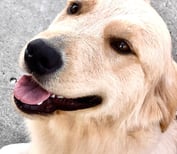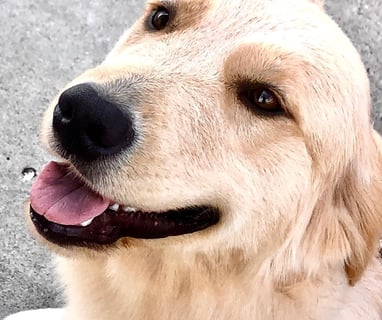 January 1, 2023 - December 31st, 2024.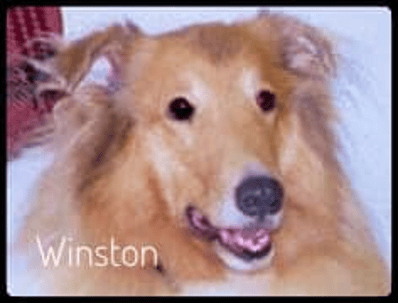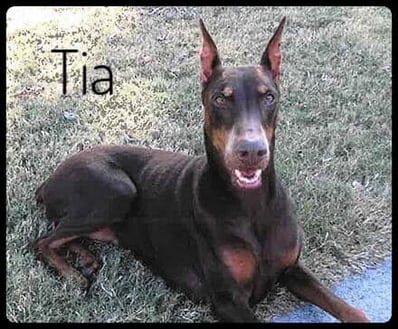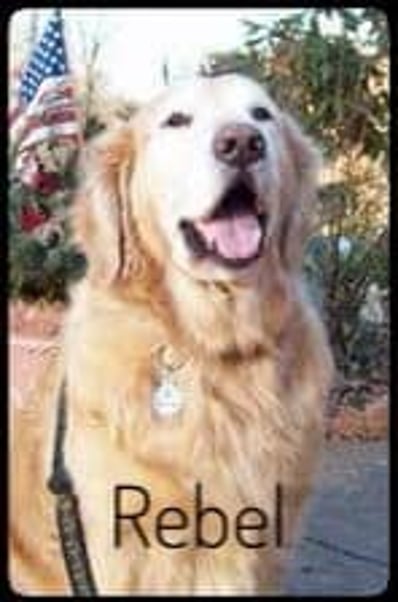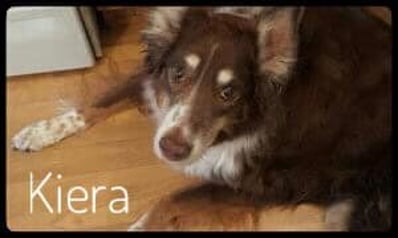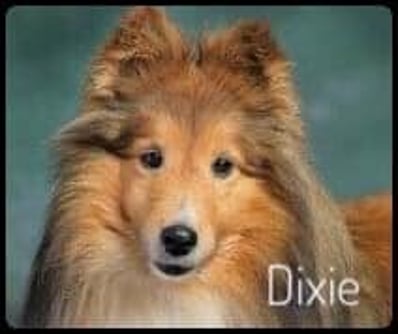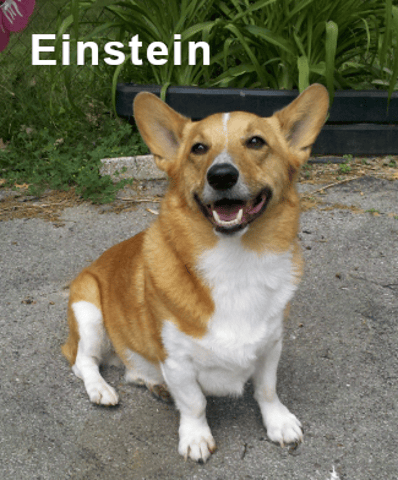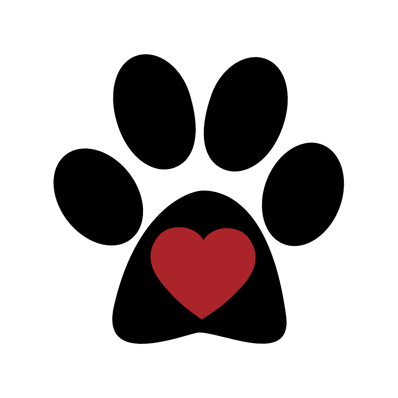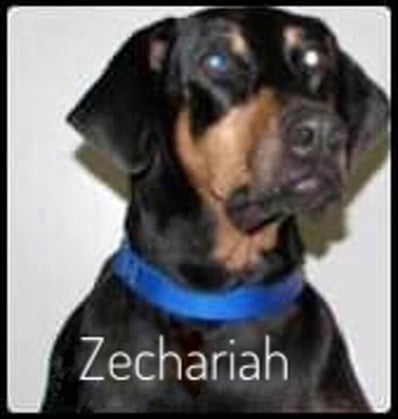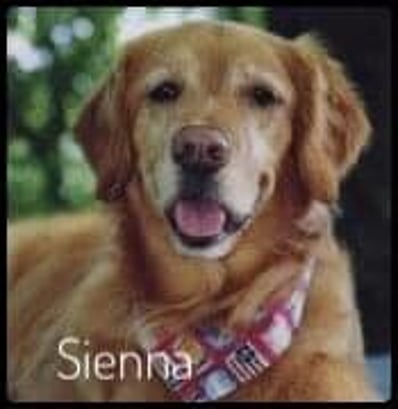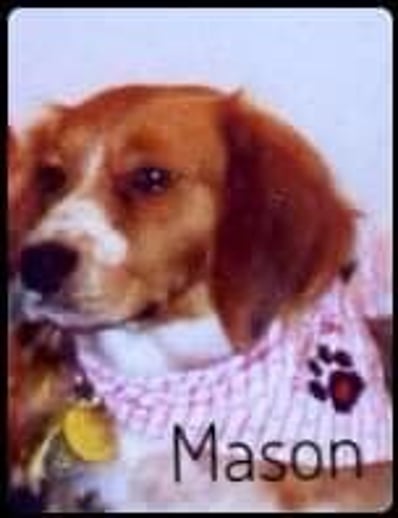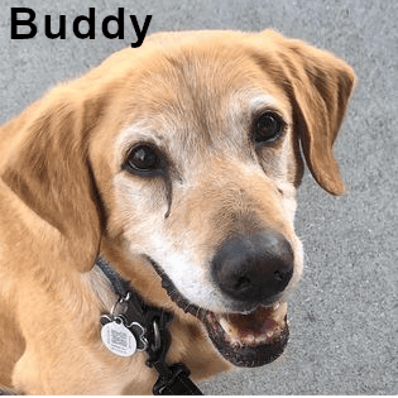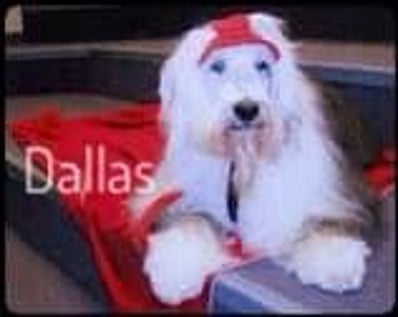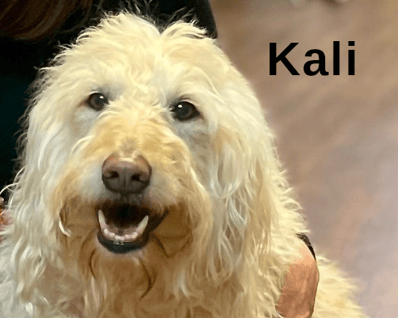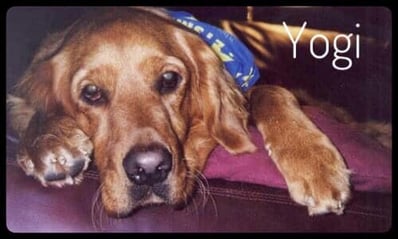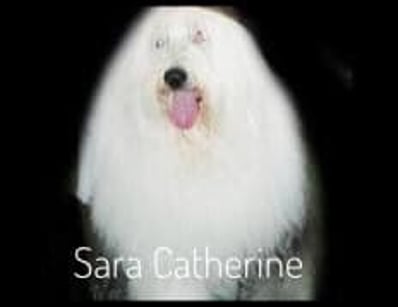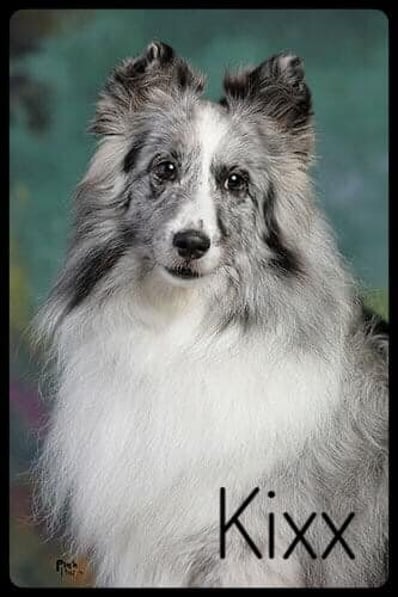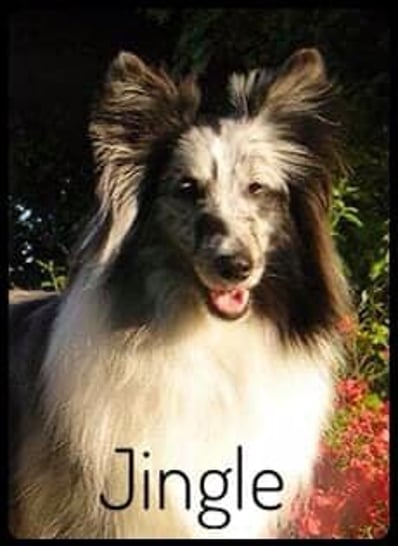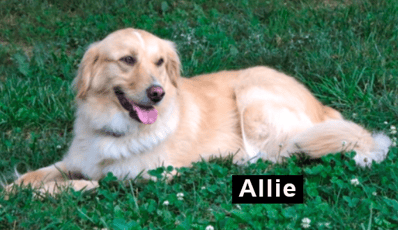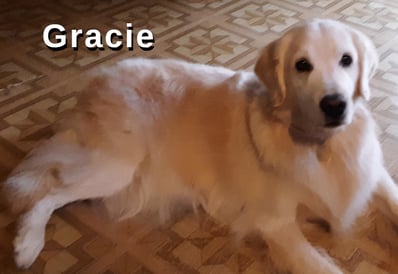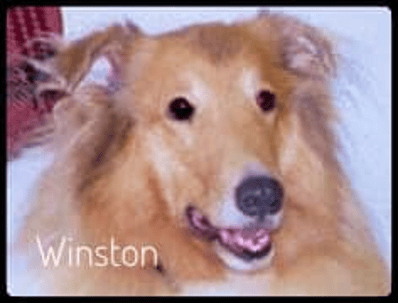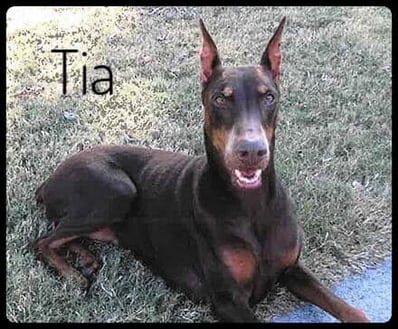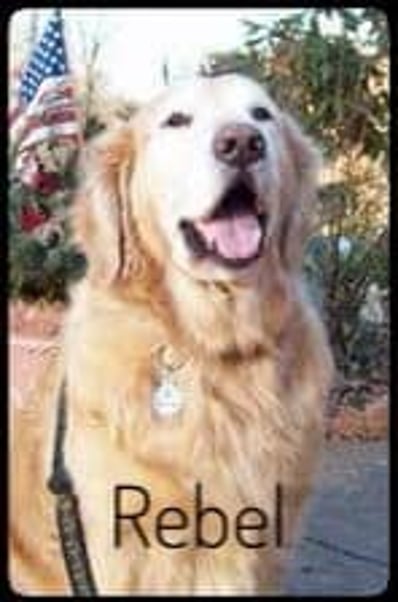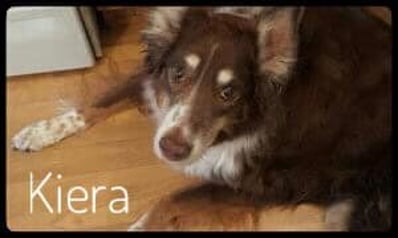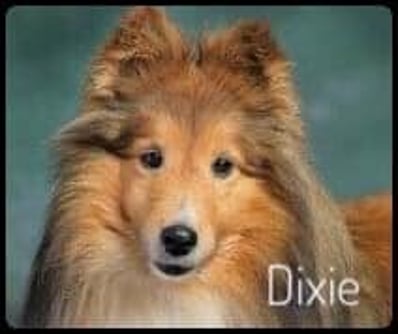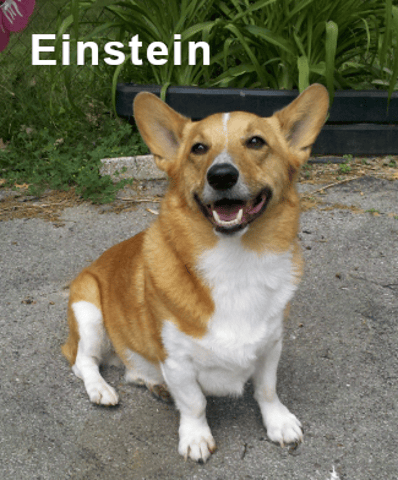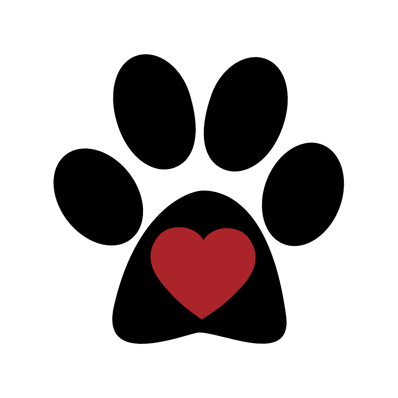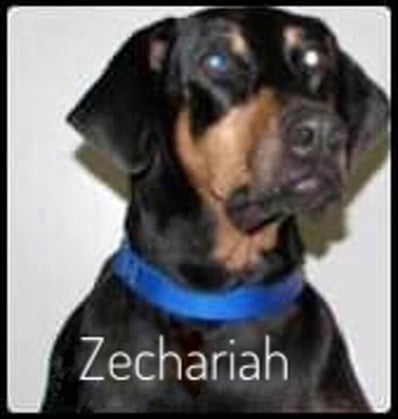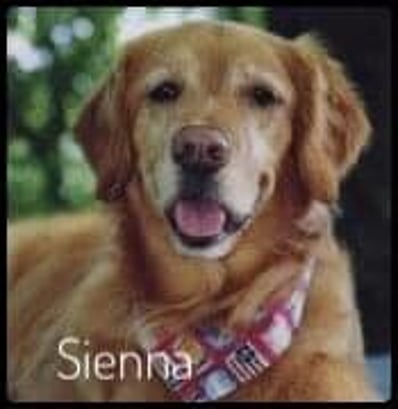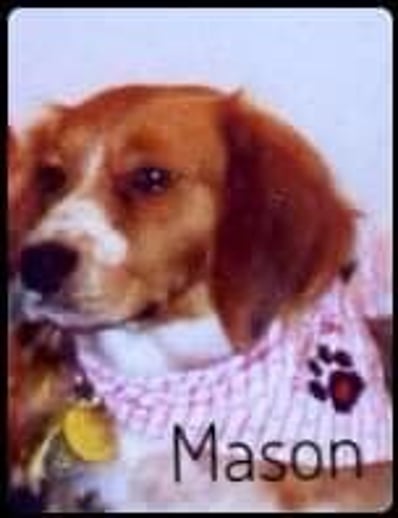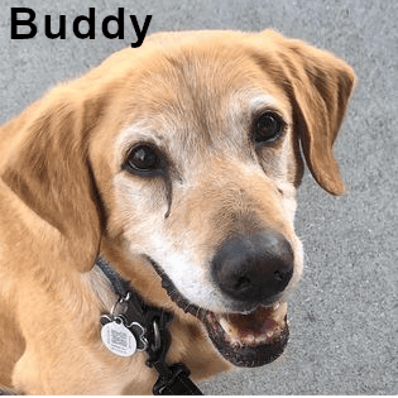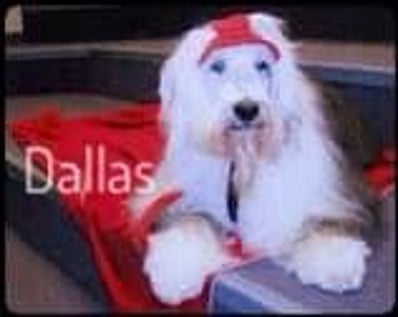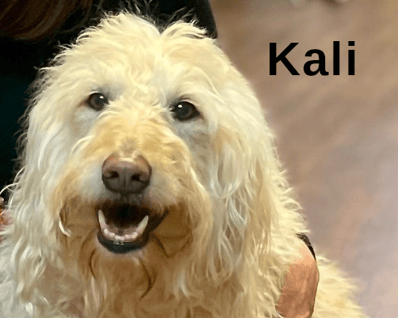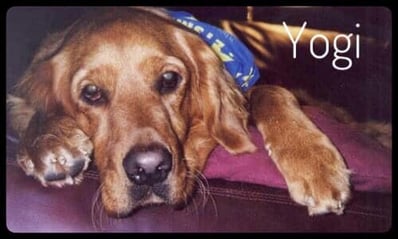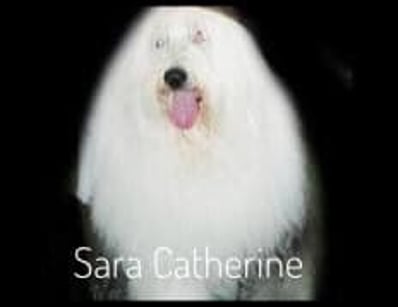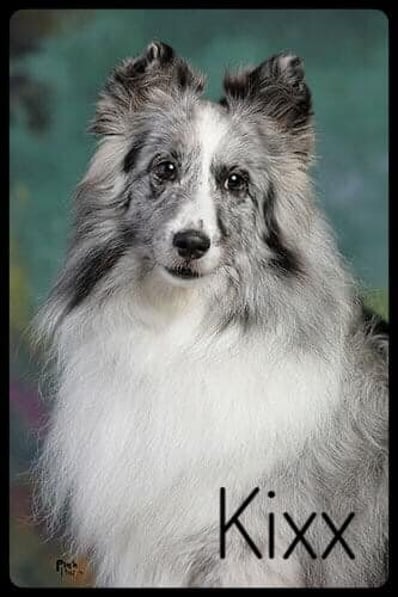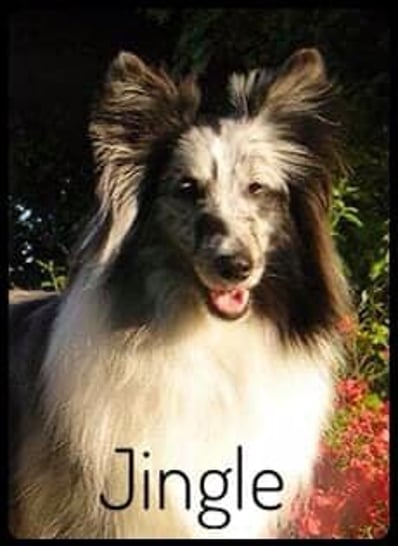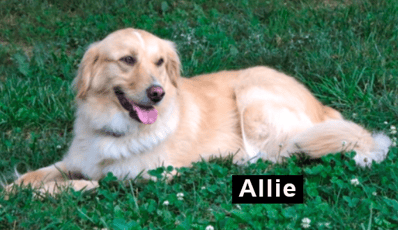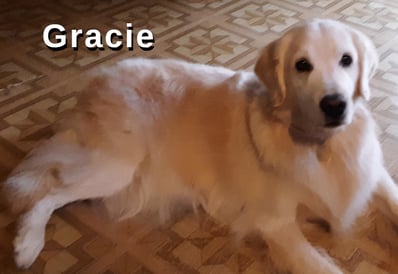 In Memory of our past Therapy Animals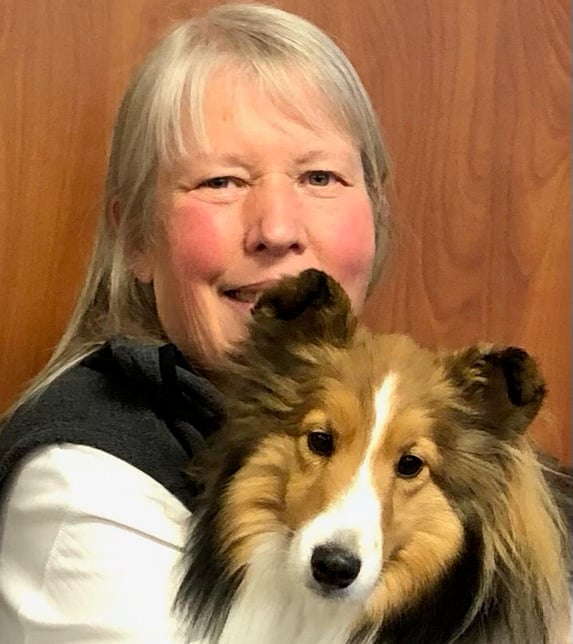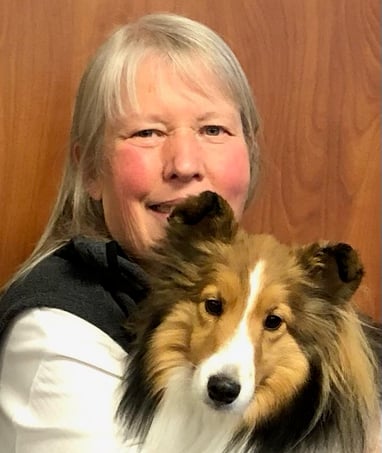 Kathy Anne Temple
1961 - 2023
Kathy became a handler in 2000 with her first Therapy Animal, Sienna. In early 2001, Kathy and Sienna were part of the core group that established Tender Paws at Gateway Hospital (now Tennova). She took on the role of Evaluator and Training Director in addition to being a visiting team.
As an Evaluator, Kathy made sure both Handlers and Animals teams met the high standards of Pet Partners prior to being registered to start visiting.
Kathy was an active member for more than twenty years. In various leadership roles including President and Vice President, Kathy helped expand the mission of Tender Paws, adding and participating in the Children's Library reading program. She coordinated participation in many events that have become yearly traditions for the Clarksville group.
Kathy sought ways to keep Tender Paws responsive to the needs of the local community. Events were geared toward grieving Military Families from nearby Fort Campbell Army base in the months and years following 9/11.
Her spirit and drive motivated dozens of Tender Paws members and uplifted the lives of the thousands of individuals she and her four Therapy Dogs visited.
Until the end of her life, Kathy exemplified the best a volunteer can be in the field of Animal-Assisted Therapy.
We were lucky to have known her.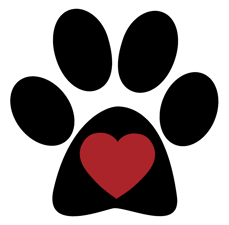 "Dogs leave pawprints
on our hearts."